Hurling
History of Queen's Hurling Club
QUB Hurling Club 'The Early Years 1922 – 1943' by Colm Gallagher and Brendan Harvey
Following the foundation of the Gaelic Athletic Association in 1884, there was an enthusiastic response throughout the country, although interest waned somewhat during the tense years of the Parnell split 1890 1900. Every Ulster county soon had a variety of clubs and competitions became well established. Other publications of recent years have detailed the progress of historic clubs, quite a few of them in Antrim.
In the North, however, there was a further decline during the troubled political period 1918 1923, when clubs disappeared or at best lay dormant, to be resurrected later on. It was during this period that the first attempt to introduce Gaelic games to Queen's took place. During the academic year 1922 1923, a football game was played between Queen's and University College Dublin. The commemorative booklet published by the Gaelic Football Club to celebrate its Golden Jubilee gives an account of this brief and unsuccessful effort to become established. In addition to the problems created by the prevailing political climate, the University had only a small population of students likely to be interested in Gaelic games and it was not until 1931-32 that a Gaelic Football and Hurling Club was formed. The club entered the South Antrim Football League during the 1932-33 season and participated in the Sigerson Cup competition from 1933 onwards. Despite a shortage of players in the early years, the team won the Antrim league in 1934 and maintained gradual improvement, culminating in a string of successes in later years.
Hurling however, did not reach any worthwhile degree of success during the first ten years of the club's existence. Only a small minority of players came from a hurling background, so that the formation of a team for entry into competition in local leagues was impossible. The club, which received a Games Fund grant from the University, had to devote both its money and energy in greater part to the footballers' involvement in League and Sigerson Cup. Despite the impediments, occasional matches were arranged with outside clubs on a friendly basis and there were hurling/shinty games in 1938 and 1939 against the Camanachd clubs of Edinburgh and Glasgow Universities respectively.
Players who were active in the hurling sector during this period were Hugo Hill, Larry Higgins, Willie Steele, Seamus Keenan, Michael Murray, George Coyne, Fred Bereen, Pat Bradley, Phil Bradley and Paddy McHugh.
As time passed it became clear that Hurling would have to be established in its own right. Money had become a problem, there being insufficient in the grant to promote two games and the hurlers not having a place in the Student Council.
In 1943, Paddy Cullen, the then secretary, took the initiative to see if it would be possible to institute a Hurling Club. Paddy was also an official of the Belfast Dental Students' Association which was seeking affiliation for the purposes of grant status at the same period. It was he who undertook to carry out the necessary politicking. At a meeting of the Gaelic Football and Hurling Club on Saturday 22 January 1943, the Queen's University Hurling Club was created as a separate entity. Grant recognition was obtained from the University authorities and further help was given by the Ulster Council of the GAA and the Graduates' Association which provided the first set of jerseys. The first President was Dr. John A. Macauley, first Chairman, Vincent Kelly and first Secretary, Robert J. Nicholl.
There followed an enthusiastic effort to have a programme of matches, now unhampered by ties with the footballers. It was not possible to enter the Antrim Leagues, partly because the academic year did not coincide with the hurling season and partly because players were committed to their own neighbourhood clubs. Paucity of numbers was also a handicap so that when granted admission to the Fitzgibbon Cup competition, the club was given the privilege of including up to three "guest" players. A similar arrangement had been granted to the footballers when they were admitted to the Sigerson in
QUB Hurling Club 'pre – 1943' by Dónal Mac An Ailón
Queen's University Hurling Club celebrates its diamond jubilee this year, having been founded as an independent club in 1943. But did you know that efforts to establish hurling at Queen's predate the club by as many as twenty years?
Hurling at Queen's University always faced an uphill battle. Although the initial Queen's GAA club (founded in 1921/22) was called the 'Gaelic Football and Hurling Club', the latter part of the title appears to have been wishful thinking rather than a true reflection of the society's pastimes. Queen's name appeared in a list of ten teams due to participate in the Belfast hurling league for 1923, but this was probably a token gesture owing to a South Antrim Board bye-law "precluding a team competing in football unless having a hurling club and fulfilling its fixtures." No student team played in the hurling league, however, due primarily to a complete lack of accomplished hurlers at the university. Due to this and many other problems – chiefly, Students' Representative Council's refusal to allow the affiliation of Queen's GAA club, while it admitted the Queen's Jesters' club "with open arms" – the club soon disintegrated.
Debut in 1932 Against Trinity
In the early 1930s the reborn Queen's 'Gaelic Football and Hurling Club' was able to make a better effort to live up to its full title. At least now the club had a few skilful hurlers, such as Antrim senior Hugo Hill, and Brendan Murray, a native of Camlough (Armagh) who, as an Ulster M.F.C. medal with Down in 1930, had hurled in Croke Park. Queen's hurling debut, against Trinity College at Phoenix Park in February 1932, resulted in a draw, 4-1 each, but the game was remembered primarily for the string of Irish government detectives on the sideline. They were monitoring the movements of Trinity hurler and organiser, (Rev.) R.M. Hilliard, the radical Anglican cleric who later died fighting in the Spanish Civil War. Queen's second hurling game, in March 1932, produced a defeat to the visiting UCD second team, 4-2 to 8-1.
In the Winter 1932 edition of Queen's magazine, the New Northman, the GAA secretary wrote that his club had played ten hurling games in "season 1930-31" – he may have meant the 1930-32 period or 1931/32 season – but he was clearly not a student of Mathematics (or 'Sums' for that matter), as the ten games were divided into six wins, one draw and two losses. Indeed, there remains the suspicion that these results were fabricated in order to secure a bigger club grant, as other contemporary sources do not record so many games or corroborate this claim.
Winter Sports
Between November 1932 and February 1933, however, Queen's did play in a Belfast winter hurling league, in which it won the first-ever hurling game at Cherryvale, 4-2 to 4-0 against O'Donnell's, courtesy of three goals from Loughgiel native Alec Macaulay. This league was a one-off, however, and as local fixtures were confined subsequently to summer seasons, it was hard for the Queen's novices to build up a hurling tradition. In fact, with so many other disadvantages – especially the smallness of the club grant, which, after expenditure on the primary football interest of members, allowed little for the cost of hurling equipment and travel – Queen's played few additional hurling games, in the decade after 1933. "Up to the very last moment," wrote the Cork Examiner of the Fitzgibbon Cup tournament in 1936, "it was expected that Belfast would enter the fray for the first time, but unfortunately this cherished hope has not been realised." There is no evidence to suggest, however, that this story was anything more than a rumour.
First Shinty Matches
What is certain is that Queen's played hurling / shinty tests against Edinburgh and Glasgow universities in 1938 and 1939. It was a bold endeavour for all involved, as in 1934 the Camanachd Association decreed that it was to have no further contact with the GAA. These matches were, almost certainly, the only points of contact between the two associations until the 1950s. Realising the strength of the visiting Edinburgh team (Southern Scottish Counties Shinty League runners-up), Queen's included several leading Antrim hurlers on its 1938 selection, one of whom, Gene Thornbury, scored a 'hat-trick'. Nevertheless, Queen's lost, four goals to five, "through a tendency to break away from the hurling planning system, which left them only one forward."
Essentially one club could not cater sufficiently for two sports, and as time passed it became clear that hurling would have to be established in its own right. Thus in January 1943 Queen's University Hurling Club was born.
QUB Hurling Club '1945-1948' by Colm Gallagher and Brendan Harvey
The first year of entry into the Fitzgibbon Competition was 1945-46. It may be a matter of interest to note that the Fitzgibbon at this time was normally played on a league basis. There were three teams, UCD, UCC and UCG, so that each team was involved in two matches. This meant playing one match each day, on Friday, Saturday, and Sunday. Apart from the length of the Fitzgibbon "Weekend", five days including travel, this procedure could cause some problems. For example in February 1945 the results of the games were:
UCD 2-6 UCG 3-2
UCG 6-4 UCC 2-3
UCC 6-1 UCD 3-5
As can be seen, each team won one match and the trophy was awarded to Galway because they had obtained the most points – 33.
When Queen's travelled to Galway for their first attempt during the weekend 8/9/10th February 1946, this league arrangement continued, each team playing three games and being committed to playing on each day. A by product of this arrangement was that in the remaining years of the league system, there was on the last day one match only between the two teams in contention, while the match between the other two teams was cancelled. The league system was abolished in 1949 and replaced by two semi finals and a final on the knock out principle.
The Irish Independent of Wednesday 6 February 1946 gave a short preview of the Fitzgibbon Competition.
"The Dark Horse"
"As this is their first appearance in the Fitzgibbon little is known of Queen's University but taking into account the fact that they may call upon two or three players as they do in the Sigerson Cup and also the great strides made up North in Hurling, they may prove to be something in the nature of the dark horse of the competition."
The same newspaper carried the following account of Queen's performance:
"The sports ground at Galway was in an appalling, condition for the opening ties in the Fitzgibbon Cup yesterday, and, as several players stated, only that it was a case of "now or never", neither game would have been played. After five minutes of the Queen's UCG tie, which the latter were hard pressed to win (4-4 to 2-0), the pitch was churned into a sea of mud and by the time UCD and UCC took the field it was in no fit state for hurling.
UCG 4-4 QUB 2-0
On their first appearance in the Cup, Queen's made a very favourable impression and if they had the services of Armstrong and McRandles, who are to play in Cavan tomorrow, they may have created a big surprise. With the advantage of the wind in the first half, Queen's short passing game upset the holders' defence and they well deserved their lead of 2 0 to 1 0 at the interval.
Midway through the second half however, when Galway had narrowed the lead to a point, they made a vital mistake. Campbell, who had practically controlled centre of the field, was moved to full back and Queen's paid the penalty for going completely on the defensive. Shortly afterwards a disputed goal by V. Doyle put Galway in the lead for the first time and that to the end Queen's were kept inside their own half. S. Duggan, D. Flynn, P. Donnellan and F. Brophy who substituted at centre half back for V. Bastion stood out in UCG's defence while Gallagher and brothers M. and V. Doyle were the pick of the forwards. For Queen's Butler, McKeown, Campbell and Cormican were outstanding and goals were scored by Downey and Morris."
UCD and UCC played on the same day and drew 0-4 to 1-1. On the Saturday the pitch was drier and the quality of hurling much higher. Results that day were:
UCG 4-4 UCD 3-6
UCC 4-5 QUB 1-1 (Campbell 1 0, Downey 0 1)
UCG took the 1946 Fitzgibbon title.
Results in the 1947 competition were:
Final UCC 6-5 UCG 0-0
Saturday's games:
UCD 2-14 UCG 2-4
UCC 4-5 QUB 0-4 (Foody, Mullan, O'Neill)
In 1948, UCD were victorious and the results over the weekend read:
Final at Croke Park:
UCD 3-5 UCC 2-0
Sat. 31/1/48:
UCD 13-4 QUB 4-2
UCC 7-6 UCG 2-5
Fri. 30/1/48:
UCC 6-0 QUB 1-3 (Moran 1 1, Mullan, Butler)
As can be observed from the results, Queen's gave a reasonable account of themselves when one considers the handicaps. Apart from the fact that each of the southern universities had a fair proportion of county players, several with a national reputation, the normal "average" player on any of these teams would have been nurtured in the well established hurling schools such as North Monastery, Cork; St. Flannan's, Ennis; St. Peter's, Wexford; St. Kieran's Kilkenny. Munster, Leinster and Connaught had Colleges competitions at this time while Ulster had the Macrory Cup for football but no corresponding hurling trophy until years later.
Players who participated in this era were: Rab Nicholl, Vincey Kelly, Des Cormican, Jack MacManus, Tim Sheehan, Clarke, Harry O'Loane, Mannix and Danny McAllister, Rory Morris, Jim Mageean, Maurice Hayes, Jim Christian, Billy and Danny Molloy, Joe Lenfesty, Jim McConville, Phelim Donnelly.
'1953 Annus Mirabilis' by Colm Gallagher and Brendan Harvey
In February 1953 the Fitzgibbon was held in Belfast for the second time. There was an ambitious outlook towards the competition at this time and in an effort to pull out all the stops, it was decided to use guest players and graduates to the fullest advantage. Unfortunately a degree of dissention emerged at this time for the first time ever! It was argued quite reasonably that with the advent of young players, the opportunity should be granted to them to play in the "home" Fitzgibbon, which on average would occur only once in a student's career. Queen's were extremely well prepared this time and were determined to make an impact.
In the semi final Queen's met UCG and in his account one journalist wrote:
"Their win was no fluke last Saturday. Fore and aft they were the better team, playing a first time pulling game that Galway had no answer to, and producing a determination and spirit that any opposition would have found extremely difficult to surmount. The victory is all the more sweet since little was expected of the Queen's lads and as usual it would have been taken for granted that Galway would have had an easy passage."
Queen's won this game 2 5 to 1 4. In the other semi final Dublin beat Cork 3 4 to 0 4.
The final was due to take place on the following day but was postponed due to the condition of the ground it was the weekend of the Princess Victoria disaster. The game finally took place at Corrigan Park on the 26 April 1953. Dublin had been holders of the trophy for the previous three seasons and were eager for the first quartet of victories in the competition's history. They had a fair number of seasoned county players and were most methodical of University squads because of their regular outings in the Dublin County Senior League.
The victory against Galway however had instilled spirit into the Queen's men and they were determined to put on a show to remember. The game attracted a large crowd and became part of GAA history because it was the first game to be televised in Ireland, a fact which had not gone unnoticed by local politicians. Fuel was added to the political flames as it was the only game to be included in a programme about Northern Ireland broadcast from the new television service in Belfast.
The game was a tight affair, with defenders dominating on both sides so that the scores were slow in coming. The first point in fact was scored about midway in the first half giving UCD the lead, but Queen's obtained two quick points from Seamus McDonald just before the half time whistle. Just into the second half McDonald scored again, this time with a goal. UCD then scored two points from play. John Savage scored a point from a '70' for Queen's and the closing stages brought two points for Dublin, making the final score QUB 1 3 and UCD 0 5.
The outstanding Queen's player was Des Cormican, who truly deserved success he was one of the student players who took the initiative back in 1943 and persistently worked for the welfare of the club for a decade. Normally a midfield and forward player with Mitchels, and Antrim, he played at centre half back in this game and it was he who marshalled the Queen's defence through a couple of really hectic attacking periods from UCD. Trainor made two brilliant saves in goal, the defence was in command in every department, McDonald and Savage had the edge at midfield and Captain Ted McConnell worried his way persistently in attack. The forwards fought and fought against a Dublin defence which was as resolute as Queen's.
The squad for the final was: B. Trainor, V. Kelly, J. Butler, J. Flanagan, D. Gilmartin, D. Cormican, P. Duggan, S. McDonald, J. Savage, E. McConnell, R. McMullan, B. McAleenan, P. Crilly, D. Anglin, G. Treacy.
In the euphoria which followed the match, all the dissention surrounding the composition of the squad disappeared as the realisation of the momentous victory sank in. The plain fact was that Southern Opposition had been defeated in a major hurling competition by a Northern team and the impact of this both North and South should never be underestimated.
The account of Queen's historic victory in the "Irish News" read:
"Queen's Win Fitzgibbon Cup"
Queen's University (Belfast) 1-3
University College (Dublin) 0-5
Hats off to the gallant Queen's first hurling combination to bring an All Ireland major title to Ulster, at Corrigan Park, yesterday, even though the grade is not first class senior!
Gallant is the only fitting word to describe the resolute exhibition of tenacious tackling and countering given by the majority of Queen's players especially in defence in the Fitzgibbon Cup final against UCD.
"Dessy Cormican"
First in the roll of honour comes the small man of the team, Dessy Cormican, who has never played better. He had no compeer afield for varied hurling. Time and time again he gave the Dublin attack the right about order and his long pucks or ground drives carried to his forwards.
Seamus McDonald was a good second. Roaming all over he forced the attack on the Dublin goal repeatedly and was chief scorer for the Ulster side. Goalkeeper B. Trainor made two brilliant saves when his defeat was expected. Jim Butler gave him sound cover, tackled gamely and cleared safely. The remainder of the defence earned their medals by courageous, untiring, though not over skilful, efforts.
Jack Savage though lacking in speed gave a versatile display as partner to S. McDonald. He and B. McMullan changed places at intervals with good effect.
"In Great Style"
McMullan opened in great style but was unfortunate to receive several severe knocks yet he recovered to finish in dashing style. Captain E. McConnell was a game trier but he and his forward colleagues rarely were out of the grip of the strong Dublin defenders of whom T. Hurley and D. Butler, J. White and his wing comrades were senior grade hurlers. Referee: Andy McCallin, Belfast.
"The Game"
Dublin got in for the first point after eighteen minutes. Ten minutes later S. McDonald pointed a '70" to level up and in the next minute he put Queen's in front. Interval: Queen's 0 2 UCD 0 1. Three minutes after resumption a flashing shot from S. McDonald was diverted past Commerford for a goal. Dublin fought back in dashing style for G. Kelly and D. Meighan to notch points.
The Belfastmen were still having their share of the attacking play and were twice unfortunate around goal. One hot attack secured a '70" from which Jack Savage shot a point direct. UCD piled on the pressure, and from two frees G. Kelly attempted to goal, one shot was diverted over and the second sailed over without hindrance. Kelly had a chance of levelling but he failed with a long free and Queen's were starting an offensive when they were halted by the welcome full time whistle.
Officials of the BBC were present and the game will be televised.
Players of the time were: Rab Nicholl, Vincey Kelly, Tom L'Estrange, Dan Duffin, Pat O'Neill, Sean Cunningham, Jim Conroy, Brendan McKeown, Pat McVeigh, Brian McAleenan, Gerry Tracey, Colm Gallagher, Pat Duffin, Michael McKeown, Leonard Quigley, Terry Eastwood, Diorai Corvin, Joe Mageean Brendan Harvey, Tom Mulholland, Ted McConnell and Noel Slattery.
'1954' by Colm Gallagher and Brendan Harvey
The 1953 success soon appeared to be short lived however. Now that the Fitzgibbon had been won, the privilege of having guests was stopped and the number of graduates limited to seven. Consequently in the following years the performances in the Fitzgibbon were near to disastrous, just as in the early years. There was one important transformation however. In 1952 the Ulster Grammar Schools' Hurling League was inaugurated with immediate success, thus putting the game on a par with Football which for decades had had a whole range of competitions which eventually produced most of the players for Queen's Gaelic Football Club.
This league was now beginning to produce players for the Hurling Club, players who were not novices, and who were confident that even if they were not always successful they were determined to help build the Club into an all student squad and perhaps even produce a second fifteen! More importantly the new generation produced new ideas within a couple of years an internal seven a side competition was held to overcome the lack of opportunity to play regularly in a League. The Club invited three local senior clubs to participate in a League and provided a trophy – the L'Estrange Shield – for the winners.
It was now assured of regular matches during term time and indeed helped local hurling generally in that it provided some Winter matches for the players involved. The lack of expertise in the finer points of the game throughout these years did not reflect badly on the Club; on the contrary there was a secret admiration even from the critics for the grit and determination shown. There was a strong bond among the members, a genial air of hospitality and friendliness was ever present a fact often commented upon by the players from other Universities and above all an intense interest in the game. It was common practice to go to Dublin on St. Patrick's Day, play UCD's second string in the morning and then go to Croke Park for the Railway Cup finals. There were no sects or factions except on outings when there was a three way split … the card players, the singers and the drinkers!
After the high of the Fitzgibbon cup win of 1953, the following year was bound to be something of an anticlimax. But the team set off for the competition in high spirits. We met UCD on the Galway Sports Grounds on a pitch which had been churned up by an earlier rugby game. Queen's went down by 3 6 to 1 3. However, our semi final was overshadowed by the battle which ensued in the other semi. It had been billed as a replay (of sorts) of that year's All Ireland Final and, to put it mildly, it was a fierce encounter. UCG won on the Saturday and again on the Sunday but the GAA powers that be refused to award the cup and Queen's were entrusted with its safekeeping for another year. Technically therefore Queen's 'held' the Fitzgibbon Cup for two years although the record books do not show this.
1954-55 was the year in which the Club began to show some strength. Local opposition was overcome in several matches and the team set off for Cork in February 1955 with somewhat higher hopes. In what proved to be a fiery hurling baptism for the new boys, a very strong UCG team beat Queen's by 6 9 to 1 4.
The Queen's scorers were C. Gallagher 1-0, B. Harvey 0-3, T. Toner 0-1.
'1955-1958' by Colm Gallagher and Brendan Harvey
The final in 1955 was won by UCC who defeated UCG 7-3 to 1-1.
The players were: D. O'Reilly, J. Mageean, V. Kelly, T. Eastwood, D. Gilmartin, D. Duffin, A. McMullan, B. McMullan, J. McKendry, B. Harvey, T. Toner, F. Maguire, C. Gallagher, S. Laverty, P. Bradley.
With the influx of students who had gained experience in the Ulster Colleges' Hurling Leagues, the Club began to show a marked improvement. On the local scene it had become quite strong and was invited to play a North Antrim Selection at the opening of the Loughiel Grounds, a match which Queen's won. In addition, UCD were defeated for the first time in Dublin on the morning of St. Patrick's Day 1956. However, Queen's suffered a heavy defeat at the hands of UCC in the Fitzgibbon in Dublin. The final had to be postponed because of continuous snow but was played one week later in Nenagh when UCC beat UCD 4-6 to 3-5.
The following academic year, the Fitzgibbon was brought forward and was played on the weekend of 17th and 18th November 1956 in Galway. Another heavy defeat, this time at the hands of UCG was our lot. A memorable game that season saw Queen's beat Portaferry, who were then the Down Champions, in Portaferry.
In Cork, in early December 1957, the familiar pattern of defeat was repeated. A new team was starting to emerge which included names such as G. Bums, S. Donnelly, D. Killen, J. McGrogan, A. McDonall, S. Parfit, N. Cushley, D. Hegarty and J. MeCloskey
The 1958 Fitzgibbon competition was held in Belfast but there was to be no repeat of the 1953 heroics. Queen's put up a good show for the first 45 minutes and opened with a score of a point from Stanley Parfit but Cork's skill began to tell and they led by 2 3 to 0 3 at half time. In the second half Queen's scored 2 3 but this was a poor response to Cork's polished second half performance which left the final score:
UCC 8 5 QUB 2 6
Queen's scorers were:
G Burns 1 3, S Donnelly 1 0, B McNally 0 1, Killen 0 1, S Parfit 0 1.
UCC defeated UCD in the final by 4 8 to 3 2.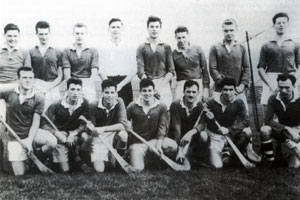 Above – QUB Hurling team pictured at Cherryvale (at that time the University Playing Fields) in 1958 on the occasion of the first playing of the L'Estrange Shield Competition. (The club jerseys by this time were royal blue, a fact which displeased the rugby firsts who regarded that colour as their preserve).
Back l-r: Leonard Quigley, Seamus Donnelly, Oliver Boden, Des O'Reilly, Thomas Gillen, Noel Slattery, John M.Grogan, Alex McMullan.
Front l-r: Brendan McAuley, Eamon Stewart, Frank Smyth, Gerry Burns, Terry McDermott, Barney McNally, Brendan Harvey.
'Reminiscences of Queen's Hurling Club: The 1970s' by Joe McGurk
It was a Sunday night in October 1970. I was just about 17½ and my father drove my elder brother Anthony, sister Aileen and myself in the Morris Oxford up the dark winding Knockloughrim Road, then along the tree covered route by Chichester Clarke's estate to the Hillhead. There we would catch the service bus from Derry to Belfast. The M2 was non-existent then, so it was a long trip down through Toomebridge, into Cargin. Staffordstown, Creggan, Randalstown, Antrim, Templepatrick, Glengormley and finally down the Antrim Road, and up Royal Avenue to the bus depot at Great Victoria Street. Our journey ended with a 71 Citybus up to Queen's.
It was on the following Wednesday afternoon that I caught another number 71 Citybus outside the Students' Union to the playing fields at Malone. I can recollect my first impressions on reaching the hurling pitch the paternal figure of big Willie Hodkinson, the musketeering swagger of Vernon Laverty, the wise old heads of Dessie McLauglin, Sean Ward and Gerry Daly, Rory Galway in the 'bumble bee' shirt of St. Mary's CBS, Mickey Gannon in the blue and white of Corrigan Park, the green country faces of freshers Burns, Lennon and Laverty and the 'Jesus like' image of Vincent Bent no doubt prophesying the emergence of Down 22 years later.
There were others whom I got to know as time went on: John McKillop, our treasurer constantly seeking receipts even if they were only for fish suppers in Smokey Joe's; big John Dallatt, who could do differential calculus in 5 different languages and Gerry Burns, who wished he could. Mickey Hill was a fresher then too, but I'll always remember him after the matches, a man seemingly well beyond his years, pipe in one hand, pint in the other, sitting sedately as Gannon gave his usual rendering of 'Take it down from the mast' often in the 'Bark Kitchen' on Dublin's quay.
I recollect my first away match in Dublin against Trinity in November 1970. Queen's played well to win the fixture and in the post match get together Mickey Hill and Ciaran Carson spent the evening in the Harp Bar at the top of O'Connell Street eulogising to the abstemious duo of Theo Laverty and myself about the invigorating effects of alcoholic beverages and the black stuff in particular. Now there's an expression in wine circles that some wines don't travel well, but on that Saturday night in my first encounter with real drinking, I discovered that the Guinness is not a powerful traveller either as Ciaran and Mickey left their stout on the roadside about 2 miles north of Swords.
I remember my first Fitzgibbon in Cork, sharing with Gerry Lennon in the Country Club Hotel, Montenotte in Cork. John and Edgar Doman from Armoy took leave of home Agricultural Studies to 'guest' for Queen's but our excursion reaped little reward. The highlight of the weekend was a scrum down in the function room on the Saturday night when about six Queen's hurlers failed to shift a lone Moss Keane.
The Fitzgibbon of 1974 has lasting memories for me for a number of reasons. Queen's were hosting the competition and it was decided to take it out of Belfast into North Antrim. I had the dubious privilege of being Club Chairman but suffered broken fingers on the run up to the competition. We played UCD, who were boosted by Jack and Seamus Ryan (sons of Seamus 0 Riain, former President of GAA), in the semi final at Carey and went down by a couple of points in a terrific match. John Durnien's pep talk sent out the Queen's men in fine fettle in a game where Paddy Carey, Canice Ward, Rory Galway and Dessie Mullan excelled.
If the game was memorable, the night after was historic. Eamon Hamill, Durnien, Mary, Paula and myself were passengers in Dessie McLaughlin's car returning from Ballycastle to Cushendun in a snow blizzard. The car slipped off the road in the terrible conditions and in attempting to liberate it from the mountainside, blood was spilt ostensibly from the hands of Durnien. Being the noble hero he was, John refused to let anyone see or attend to his injury, assuring the rest of us that he was mighty in times of crises. Ultimately a passing car was hailed and we got a lift into Cushendun to the Bay Hotel. There it emerged that Dessie McLaughlin had cut his hand and the bold Durnien had been suffering Dessie's malaise manfully!
Players at this time were: Conor McGeown, Joe McGurk, Theo Laverty, Paddy MeGinley, Scan Ward, Canice Ward, Donal Ward, D. MeLaughlin, Paddy Carey, Gerry Lennon, Hugh Ward, Adrian Corrigan, Laurence McAuley, Paul Cousins, Steve Prenter, Paddy McClean, Bernard Connolly, Rory Galway, Dessic Mullan, Patrick Quinn, John O'Neill. Martin Tobill, Eamonn Hamill, Larry McCann, Aidan Hamill, Mickey Dallat.
Over the years I have numerous memories of outings with Queen's Hurling Club:
· the feats of goalkeeper extraordinaire Geordie McGinley who never did come to terms with good defenders calling 'my ball'.
· the night that a ferocious band of Cuchullan's descendants wielding hurls defended the steps of the Mungret Hotel in Dublin against the ravaging hordes of Jacks and Hugh Ward.
· the morning that Barney Connolly came down to breakfast with a black eye and met his opponent from the previous night with a similar distinguishing feature and Gerry Lennon's anguish at losing his best hurl when Barney disposed of it outside the nearby disco.
· the return from Cork in the red Imp in 1971 and Bobby Rice and the roll of the bubble gum
· and I'll never forgive Gannon for accusing me of lacing my toast toppers with Guinness one Saturday morning at Trench House.
I returned to Queen's in 1977/78 and met a lot of good people then too – big Phil and Fergie, Maurice and the Sheehans, John McGettigan and, surprise, surprise, Galway was still there.
There are so many forgotten memories and people ill-remembered but perhaps this will jog an ailing memory. I dread to think now of those frosty Saturday mornings at Malone, trudging up and down the hills at the Mary Peters' track downladen with the previous night's pints and you know I can still hear the ghost of Galway, urging and cajoling, and Gannon and Ward cursing and swearing.
Above – QUB Hurling team pictured at Parnell Park Dublin in 1972. It was the beginning of the 1972 season that the club colours changed to green. A cheap set of jerseys on offer from Yogi McKenna proved too tempting.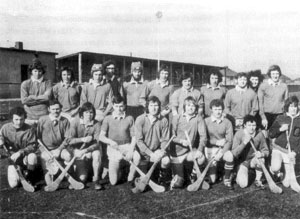 Back l-r: John Doran, Joe McGurk, John McKillop, John Dallat, Vincent Bent, Theo Laverty, Hugh Ward, Gerry Burns, Damian Graham, Gerry MCKeown, Gerard Lennon.
Front l-r: Gerry Daly, Martin Tohill, Martin McKillop, Mickey Dallat, Vernon Laverty (Capt), Mickey Gannon, Des McLaughlin, Conor McGeown, Rory Galway.
'From Kircubbin to Combined Universities 1981-1985' by Danny Hughes
When asked to recount memories from my 4 year spell with Queen's Hurling Club, recollections that came first to mind were not of the ancient game of Cuhullian but instead my head was filled with images of pub crawls, Fitzgibbon banquets and cross border coach trips home from matches on a Saturday night. Yes the hurlers of Queens had a reputation the length and breadth of Ireland for their antics off the field of play. The social (or in most cases antisocial) side of the Club has always been important and I could probably write a best seller on this aspect alone. I will not however for fear of prosecutions.
I can recall clearly checking the Club notice board for the first time, as a young fresher in October 1981. I was anxious to find out when training started but the only notice was a large poster advertising 'Club Bar Sesh meet 4pm'. I attended promptly and was taken under the wing of such Club stalwarts as Eamon Fitzgerald, Dee Ross, John McGettigan, Aggy Eastwood and Co. By 3am I discovered the unofficial history of the club and a lot more besides. My initiation was complete.
Despite the foregoing there was a lot of hurling played. Indeed I have often said that playing for Queens was the single biggest influence on my career. Despite coming from a strong hurling background at Ballycran I was a very average player as I moved through under age levels. Playing at Queens, with and against some of the best young emerging talent in Ireland transformed my play and I found a confidence in my game which had hitherto been missing. My period at Queens saw me taking my place on the Ballycran Senior team, and representing both Down and Ulster. I don't think it was simply a coincidence.
I played alongside some great hurlers on the Queens teams of 81 to 85. Ciaran Barr, Damien Murray and Rory Galway established Antrim players, fellow Ards men Seamus Fay, Lorenzo McMullan, Niall and Liam Coulter, Tyrone hardman Padraig Devlin and boys from North Antrim such as Ciaran 'Birdman' McCarry, Eamon 'Toss' Gillen and Paul 'Tree' McVeigh to name but a few. Name dropping on the opposition is even more impressive as we competed against the likes of the legendary Nicky English and Pat Hartnett.
My most memorable moment playing for Queens was our defeat of Maynooth in the Fitzgibbon Shield final of 1983. Played on a soggy Coleraine pitch this was one of the toughest games I have ever experienced. We pipped the would-be clerics by a couple of points to spark off a weekend of wild celebrations at the Northern Counties Hotel in Portrush. I secured a Combined Universities spot that year and again 2 years later when the competition came to Queens. The experience gained from playing on the Combined teams was invaluable.
So from a personal perspective I have a lot to be thankful for when I consider my time with Queens. I understand standards at the club have slipped in recent times. I can only hope that things can be turned around and the glory days are revisited.
'Club 18-30 Hurling 1982-1987' by Lorenzo McMullan
University hurling was different from club and inter-county – less serious but often more intense. There was something special about playing against guys your age, size and strength. It was fast, furious and fun.
Being a member of QUB Hurling Club was not all about playing. Preparation played a large part. The Club provided a great opportunity for members to show their talents and skills – playing, administering and organising. Many good times were had organising and attending fundraisers, training sessions at the Dub and PEC. We all quickly learned the training regime – 'No pain, no gain' – many an overindulgent student found sickness at the hands of a tyrannical coach/trainer.
Some great organisers of the time were Seamus Fay, David Ross, Conor McGurk, John Duffy, Fergus Cooper (& Pam of course!) and Steven Gleeson. In his role as PRO – Stevie Gleeson's match reports could have won many a Booker Prize for fiction and creativity!
On the pitch I had the privilege of playing with and against some superb players. Rory Galway was the oldest student I knew and certainly a most stylish midfielder. He played in around a dozen Fitzgibbon competitions. Danny Hughes terrorised many an inter-county star marauding between the two 21s. 'Big Hughso' was rewarded with a combined university – well deserved. Ciaran Barr, combined and Allstar, rose high for QUB, plucking sliotars from the heavens and scoring goals and points at will – he always claimed it could have been more if only he had got the right service…….
Damien Murray saw off many a star full forward while at full back but really enjoyed his up-field forages when the forwards were short handed!
One memorable match was played against UCC (Cork) at Naas Road on a wet and windy November day. Nicholas English, emerging hurling legend, got a tough match from a young QUB centre-half Padraig Devlin (Nicky was held to one point from play). After the match he asked what County Padraig played with. When he answered Tyrone, Nicky quipped "I didn't know they played hurling in Tyrone."
The hurling year peaked with the Fitzgibbon competition and I consider myself lucky to have played alongside many great QUB players. During the early 80's we had limited success in the Cup but he did win the Shield in 1983 – against Maynooth at UUC (Coleraine). It was the wettest day in February 1983 and playing on the ploughed field we squeezed passed a determined Maynooth side. I remember saying to Seamy Fay later that evening that the rain had frozen my hands so that I couldn't grip my hurl. His response? "Was it raining? I didn't notice."
The Fitzgibbon competition brought out the best in many players. It was there I witnessed the ultra competitive, never to be defeated, attitude of All-Ireland winning captain Henry Downey and his Derry colleagues – Johnny McGurk, Collie McGurk and Seamus Downey. Fitzgibbon competition was a pure form of hurling, pity it is played in the worst winter conditions.
My apologies if I have overlooked mentioning you but as I mature the many blows to my helmet-less head have dulled my memory.
'Queen's hurlers go close' by Irish Independent 1986
It is 33 years since Queen's won their only Fitzgibbon Cup hurling championship for the universities title. On that day they beat UCD (Dublin) when hosting the event in Belfast. Another notable incident on that weekend was the sinking of the Larne-Stranraer ferry.
The Belfast students went extremely close, the scoreline above can be ignored, to bridging that gap of 33 years at Croke Park yesterday and it only seemed to be bad luck that they failed to contrive an historic win. Cork were winning their sixth successive title, an acheivement that will hardly be equlled never mind surpassed.
They were perhaps anticipating an easy task once Queen's had beaten UCD in the semi-finals on Saturday but this was not the case as the Queen's students showed an edge in resolve, resilience and sheer will to win. They were denied because luck played a part in the last quarter when after they had levelled twice, even though behind 1-06 to 0-03 at half-time, the chance of the likely winning goal was missed by a matter of inches. This was when Declan McLoughlin, their full forward, connected with a cross from corner forward D. Maguire only for the ball to whizz past the outside of the posts.
Cork goalkeeper John Cotter breathed a sigh of relief and McLoughlin dasked his stick off the ground in understandable disgust when play swung for the other end Mick Walsh, the leader of the Cork attack, bashed over a point to resotre their lead. This was followed by a Paul O'Connor point and Mark Foley shattered Queen's hopes with a goal, the best score of the match. Like a house of cards the Queen's challenge collapsed and Walsh again this time from a Martin Everned pass basked home Cork's thrid goal.
Queen's can look and reflect on this Fitzgibbon weekend with satisfaction following thier semi-final victory over UCD and their success in at least parading thier talents on the headquarters pitch. Without doubt they were contrary to what the cynics had thought worthy finalists and Cork will be the first to concur with that view. In the last 15 seconds Ciaran Barr, the losers' staunch midfielder, was sent to the line.
UCC scorers: M. Walsh(2-1), M. Foley(1-2), O. O'Connor(0-4), M. Everard(0-2), T. Fitzgibbon(0-1)
Queen's scorers: H. Downey(0-5), J. Cunningham(0-2), P. Devlin(0-2), C. Barr(0-2), D. Maguire(0-1)
'The truth retold 1995 -1998' by Niall Murphy
As a fresher there are several issues to grapple with when joining Queens least of all which club or society to become acquainted with. A stroll around the Freshers Bazaar was bizarre to say the least with circus clubs and political groupings competing for attention, and amidst the maelstrom it was with a sense of obvious sprirituality that the Hurling Club stall called and all fresh incumbents gravitated towards it. Luckily for me it was manned by a past pupil from my own school St Mary's, Eamon "Giggles" McGarrigle of Sarsfields, so there was a common ground to break the ice. Casting an eye down others on the list I noticed other familiar Simmarians and even some of the country boys with whom camans had been drawn in the Mageean Cup so it was obvious that this represented a natural progression in terms of hurling.
If the truth was really to be told, I was well aware of the enigma that was "Queens". Daisy Maguire, Stevie Gleeson, Declan Steele, Liam McCollum, Ciaran Crozier, Pete Kane, Liam Vallely were all senior members of my own club St Enda's and the legend of varsity hurling and all that went with it often illuminated the club dressing room, and if the truth further be advanced, I frantically darted to the stall at the Bazaar, dodging the Young Ulster Unionists to ensure that I could get my name down lest there be a limit on new members. Coming from a junior club, the allure of playing with and against quality county players was mesmerising and if Decky Steele could do it I was fairly sure I had a chance! Apparently the craic wasn't too bad either.
Under the tutelage of inimitable managers such as Daisy Maguire and the great Dick Louby the training was physical and demanding yet crafted with quality. From the gruelling quagmire behind the PEC every Monday night, to fine tuned sessions on Wednesdays and Saturdays, it became apparent very quickly that the hurling was of a serious intensity. After the first away match, it became abundantly clear that there was a darker force to negotiate as a fresher, the Reaper – who or what is the reaper, Mr Mason? A hastily constituted jury appointed defence and persecuting counsel who swiftly ensured that justice be administered, the only possible stay of execution, a full rendition from start to finish of any song to the satisfaction of said jurors. With Paudie McIlwaine from Glenarriff as my court appointed attorney I didn't have a chance so I maintained my right to remain silent, pleaded the fifth and was met by swift and brutal sentence. Several others were sentenced that night and other nights, although through time I had the pleasure to in turn sentence Chris Hamill and Johnny Tosh to their rites of passage.
In between serious games against teams such as Garda College with Canice Brennan or a UCC team who boasted Joe Deane and Seanie McGrath, a win against DCU who claimed Sean Og O'hAilpin, the memories are interspersed by hysterical nights in hostels, hostelries and occasionally a hotel throughout Ireland. Was Rab Laverty pushed, did he fall or even jump through that window in O'Connell Street? Was the story about the Reaper and the turd true? Was Daisy really that big? Was there ever a quiz in the Fly or Bunatee that wasn't rigged to ensure that the prize of spirits and beer went to a hurling household in the Holy lands? Joe Boyle waging 27p in a game of poker with the high rollers was also a memory to behold.
Raucous week ends were also an occupational hazard and aside from the obvious week ends such as Fitzgibbon and away matches to Galway there were other notable tours. One of the more peculiar occasions was when "that hoor Tosh" decided he needed representation at Croke Park for getting sent off during a Fitzgibbon game against Maynooth. Other conjecture that day was of the opinion that he needed something certainly, but it wasn't representation, however in the cold light of day it was considered a sensible and honourable cause. As his chosen advocate I was on a mission to ensure that a wrong be righted, that the sending off be rescinded, that the game be replayed even, why not put Tosh on the Antrim team. Seemed like a great idea until we noticed that when we got to Croke Park it would be a better idea to finish the carry out before going in. Collins and Hamill never bothered coming in. The HEC room proved difficult to find and unfortunately Tosh's case was never presented and the four weeks stood. Sorrows thereafter had to be drowned!
Another monumental tour was that to London in 1998, to the Brian Boru's club, whose welcoming generosity bears testament to the bond that exists between all Gaels. Such incidentals as Shorty McGarry, disappearing on his own, "on the TUBE" to see "Leicester Square" to Barry Keily and Shay O'Neill getting into a night club with the new snazzy track suits letting on to be new signings for Spurs and other unprintables also conspired to make it an unforgettable weekend.
Aside from the obvious craic that will occur when young men are thrown together I will also cherish the fact that I shared the same pitch as some great players. Mickey Collins from Lavey, witty yet genuine and unassuming was the best of my era. A representative of Ireland in a shinty compromise game on the same day as an Aussie Rules match, I enquired once had he played against DJ Carey, "no but I played with him one day…"! Other great players from the mid to late nineties include Joe Boyle and Chris Hamill from Rossa, Raymie "sensible Tam" Kennedy and Greg Brunton from Ballinascreen, Robert Paul and his handsome sidekick Brendan Laverty from Cushendun and Vinny Mone and Paul McCormack from Keady. (Paul is currently filling a year or two in playing big ball with Armagh for some reason)
Great White Hopes often appeared on the first Saturday boasting southern brogues and look very impressive until the session actually started although genuine southern articles included Joe Considine from Doora – Barefield in Clare and Seamus Higgins of Camross. Fintan "I've got a gardener" Murray was another great hurler from the mighty stronghold of Darragh Cross.
That first year and every year after were easily the best social and sporting years of my life. All of the rumours from the club were true. As with all the generations who passed through the clubs membership life long friendships were forged. Personally, the calibre and nobility of the friends that I am proud to count from my Queens days are more important to me than the degree that I collected. As for the hurling club itself , all that I can say is that I miss it, and thank my lucky stars that Giggles was a more attractive entity than the pretty girl occupying the Young Ulster Unionists stall!
Gallery