GAA Academy Scholarships 2019-2020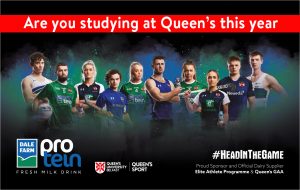 We are now accepting applications for Academy and bursary scholarships for the 2019-2020 academic year. The award  provides developmental and financial support for our student athletes seeking to compete at the highest level across all codes within the GAA.
Students can avail of a range of support structures which include end-of-year bursaries based on performance, clothing, complimentary gym access, sports psychology, high-performance coaching, and a bespoke strength and conditioning programme from renowned practitioner Mick McGurn at our first-class Upper Malone facility. Queen's Sport has also  teamed up with Kingsbridge Private Hospital to provide the very best in physio and injury rehabilitation, through our Academy physio Shea McAleer.
To apply please go to the address below:
http://www.queenssport.com/StudentSport/SportsScholarships/