Queen's Secure Intermediate Football Title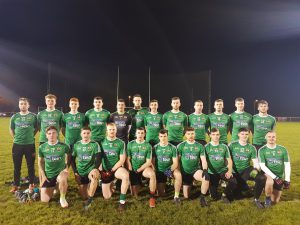 Queen's Clinch All Ireland Intermediate League Title
Queen's intermediate football team secured the league title after a high quality contest in perfect winter conditions against old foes UCC last night.
The game was played in regular half way venue Ballykelly, meaning a trek for both sides but the northern students made light of the journey to start the fastest. Some fantastic flowing football into the light breeze in the opening period opened the Cork rearguard at will with full forward Kieran Hughes finishing two brilliant moves for goals to put the Malone Road men 2-04 to 0-03 ahead at the break.
Inevitably the Munster men rallied after the restart to close the gap and after two quickfire goals in reponse, the sides were tied midway through the second half at 2-06 apiece.
The introduction of fresh legs from the bench and no small amount of composure allowed Queen's to regain control of possession and momentum and they held their opponents scoreless to the final whistle to run out winners on a scoreline of 2-10 to 2-06.
This success marks the first piece of silverware for new management team Shane Mulholland, Gerard O'Kane and Peter Quinn.