Camogs seek to end season on the right note
Queen's camogs will seek to end the season on a high as they contest the Purcell Shield final at Maynooth. Wins over LiT, TCD and Carlow IT were not enough for the girls to progress to the Cup semi-final, losing out on points difference. Their entire campaign hinged on their only loss of the campaign in the first round, no doubt due in part to the longest journey enforced on any team in the competition, away to NUIG back in November. However, the Shield final will prove a more than ample stage on which to seek consolation, as the teams take to the field in Inniskeen, Monaghan for a 7.30pm throw-in.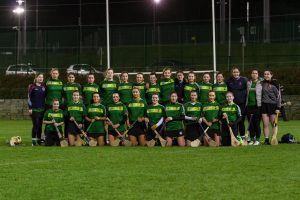 Queen's manager Ciara Hayes emphasised the disappointment felt by the whole squad on not reaching the Cup stages of the Purcell competition: 'We were obviously very disappointed with manner in which we missed out on qualification for the Cup (awaiting the result of the final group game between Carlow IT and LiT). But after a successful bonding weekend in Galway we have regained our focus for the Shield final'.
Queen's and Maynooth have met several times in recent seasons and have played out some very close encounters during that period. This evening's game will undoubtedly unfold in a similar manner.
Hayes the effort put in by the team all year and stressed the importance of this evening's game: 'All the girls have put in a savage effort for the past four months. We have uncovered a few gems along the way, and tonight is our All-Ireland final.'
Queen's camogs wish to thank all of the sponsors who so generously entered the club fundraising draw and especially gardening firm Benches and Hedges who were the winners.