Queen's Lose McKenna Cup Opener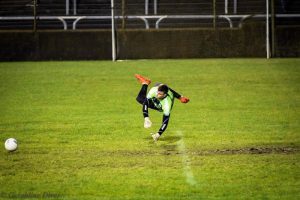 McKenna Cup Group C – Donegal 2-15 Vs Queen's 0-6
 
Declan Bonner's new-look Donegal side began their Dr. McKenna Cup campaign with a victory over Queen's University, Belfast, at MacCumhaill Park.
It finished, Donegal 2-15, Queen's UB 0-6.
Donegal scored five points without reply before Michael Langan banged in their first goal to leave them leading by 1-5 to 0-0 with just eight minutes gone.
Tiernan Rushe and Conor Martin managed to score for Queen's before Nathan Mullins – a son of former Dublin great Brian Mullins – got Donegal's second goal as they  led by 2-5 to 0-2 at half-time.
By the mid-point of the second half Donegal led by 2-10 to 0-3 with Cian Mulligan getting a couple of decent scores.
Mullins, who could well be a man to watch in the coming weeks and months, received a standing ovation when he was substituted as the game went into the final quarter.
With nine minutes left Donegal led 2-12 to 0-3 and it was 2-14 to 0-6 as the game entered four minutes of additional time. Donegal added another going to win by a 15 point margin.
In the end, as expected, it was a comfortable win for Declan Bonner's side.
The students travel to Enniskillen on Sunday now to play Fermanagh at 2pm in Brewster Park
Queen's: C Mullan-Young, N Keenan, A Rushe, R Finn, N Scullion, J McMahon, C Murphy, S Heffron, E Bradley, C Donaghy, C Martin, C O'Neill, L Conor, J Dowling, T Rushe.
Subs used: E Fyfe, B Haveron, E Deane, C Harney, O Lenehen and L Oliver.