Ryan Cup campaign ends in disappointment
Queen's 1-4 UL 0-9
Belfield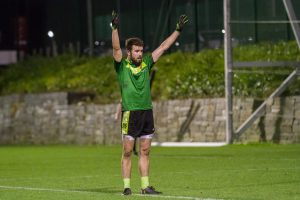 Queen's crashed out of the Ryan Cup at the hands of UL in a dogged encounter at UCD Belfield. A gale-force wind blowing towards the campus end of the field was no help to either side in a game dominated by defenses and lose forward play. Queen's had marginally the better start as Ryan Burns and Emmet Bradley (free) kicked them into the lead, but UL soon exerted control over the proceedings with patient build-up play against the wind and forced Queen's into multiple turnovers on the break. A fine score from James McMahon ensured that the first half ended with the sides deadlocked at 0-3 each.
A much improved Queen's side took the game to UL in the second half but a five minute purple patch between the 15th and 20th minutes allowed UL to stretch out to a four point lead. However, when substitute Jack Dowling held off the UL defence to slam the ball to the back of the net with less than ten minutes remaining, it looked as if Queen's might go and snatch an equaliser and take the game to extra time.  A late Conor Murphy chance drifted wide and a UL tagged on an insurance point to progress to the final where they will play UCC.
A positive league campaign comes to an untidy end for Queen's who will now turn their attention to the McKenna Cup in January before an assault on the Sigerson Cup.
Queen's Team:
Callum Mullan Young (Year 3: Mathematical Studies)
Niall Keenan (Year 4: Chemical Engineering)
Patrick Murdock (Year 2: Business Management)
Ross Finn (Year 4: History & Politics)
Niall Scullion (Year 2: Actuarial Science and Risk Management)
James McMahon [pictured] (Year 4: Business Management)
Conor Murphy (Year 4: Finance)
Shea Heffron (Year 4: Actuarial Science and Risk Management)
Emmett Bradley (PG: Software Engineering)
Callum O'Neill (Year 2: Food Quality, Safety and Nutrition with Professional Studies)
Conor Martin (Year 1: Mental Health Nursing)
James McAuley (Year 3: Finance)
Eamon Fyfe (Year 2: Software Engineering)
Ryan Burns (PG: Management)
Tiarnan Rushe (Year 2: Health Physical Activity and Sport)
Substitutes used:
Jack Dowling (ILPS)
Lorcan Connor (PG: Management)
Patrick O'Hagan (Year 4: Economics with Finance)
Patrick O'Connor (Year 2: Computer Science)
Cathal Donaghy (Year 3: Accounting)