Queen's CuChullains Clinch Division 3 Title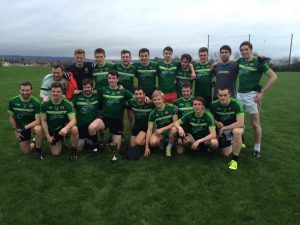 Queen's CuChullain's overcame a stern test from IT Tallaght to clinch the Division 3 football league title in a high scoring encounter at Dundalk IT.
Having comfortably negotiated a route past The Royal College of Surgeons and Trinity College in the knock out stages, the Malone students met quality opposition in the Dublin men.
The game was highly entertaining fare with the Queen's men able to consistently keep southerners at arm's length with timely goals to punctuate fluctuating runs of scores at both ends.
As the full time whistle sounded, greater class in possession and efficiency in front of the posts meant that the Belfast men kept themselves just enough in front to clinch the National Higher Education League title.
The Queen's team and subs were:
Nathan Brady
Thomas O'Hara
Martin Breen
Micheal Higgins
Geread Walsh
Seamus Warnock (c)
Conor Maxwell ?
Jack Lavery
Marcus Mulgrew
Daniel Gillespie
Conor hamil
David higgins
Andrew Deane
Eoghan McGarvey
Dermot Breen