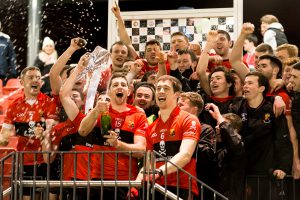 The Sigerson Cup Draw has thrown up some intriguing clashes in the first round as an open and exciting competition lies ahead in January and February.
Queen's will begin their campaign at home to a Sligo IT team guided on and off the pitch by the McHugh clan. Sligo lost narrowly to finalists St Mary's in this season's Ryan Cup semi final
Reigning champions UCC will take on Cork IT in the first round of the 2015 Sigerson Cup in what promises to be fiesty local derby.
Preliminary Round – Jan 27th/28th  2015
NUIG v IT Blanchardstown
Trinity College v Athlone IT
Round 1 –   Jan 27th/28th  , Feb 3rd/4th 2015:
First Team Listed Have Home Advantage
(A)          UCC v Cork IT
(B)          Queens v IT Sligo
(C)          Maynooth University v UL
(D)          IT Tralee v IT Carlow
(E)          Trinity College/Athlone IT v UCD *
(F)          GMIT v DIT
(G)         NUIG/IT Blanchardstown v St. Mary's
(H)         UUJ v DCU
*If Athlone IT v UCD, UCD have home advantage (per Home and Away Arrangement)
Quarter-Finals – 11.02.15/12.02.15
First team named has Home Advantage subject to Home and Away arrangement AND UCC have home advantage as hosts.
(I)    A    v              B
(J)    C    v              D
(K)    E    v              F
(L)    G   v              H
Semi Finals – 20.02.15 – Cork, UCC
I               v              J
K             v              L
Final – 21.02.15 – Cork, UCC