This week's Gaelic Football Club News (29/09/14)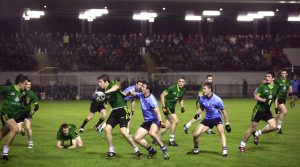 Football
Football Continues this evening (Monday) for all players at the Dub, as follows:
5.30 for 6 – fresher football
7 for 7.30 – senior football (all grades)
Any player who is unavailable is asked make contact with management and anyone injured / club tied are asked to attend.
There will be food for all post training and the bar will be open.
Wednesday:
1.30 for 2 – fresher football
7 for 7.30 – senior football (all grades)
Sean O'Neill Academy
 
Applications CLOSE this week for membership for the upcoming season. These considerably well supported places are available to players of all grades across all GAA codes. Applications for this and late EAP are submitted as follows:
http://queens.gaa.ie/academy/201415-academy-applications/
Night Out
 
The first "official" GAA night out of term takes place in the Mandela Hall on Tuesday 14th October – County Colours night
County Finals
It was a day of mixed success yesterday for current and former Queen's men across the county finals. 2014 Sigerson player Darren O'Hanlon captured another senior title in Louth with St. Patrick's but 2012 All Ireland Fresher Championship winning captain Caolan Daly succumbed to an Injury time goal in the Tyrone final with Carrickmore.
The other side of the Tyrone coin was success for the Gallagher brothers with Omagh and particularly 2007 Sigerson Cup winner Hugh, who lifted the Cup.
Club AGM
The Queen's Gaelic Football Club AGM takes place this Wednesday (01/10/14) at the Dub at 6pm. All players, volunteers and anyone interested in being involved with Gaelic Football at Queen's are welcome