Queen's GAA 2014/15 Meeting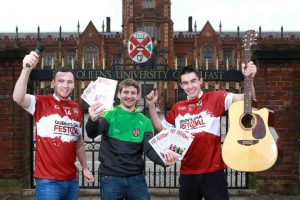 An important meeting of the Queen's Gaelic Football Club for the season ahead will take place in the Students' Union on Monday 22nd September at 5.30pm in club room 3.
The club would welcome new and returning volunteers and anyone with experience of volunteering within your home club in particular is asked to help out in some small way.
All players at all grades are asked to attend. The format of training, coaching and management for the year will be laid out.
There are no longer any heavy workload posts within the club but players are asked to consider helping with smaller roles across the year that will require occasional attention in one or some of the following areas:
Fixtures & referee arrangement
transport arrangement
jersey / training / leisure gear
finances
fundraising
social initiatives
Equipment ordering
medical coordination
website content
social media updates
Ulster colleges events
stewarding
Fresher Bazaar rota
team management support
Coaching
Additionally, the club will need 3/4 people to coordinate & delegate tasks to other volunteers in each of those areas.
Senior training for all grades (CuChulainns – firsts) will take place afterward at the Dub with new management introduced.
Food will be available after training for a cost of £1.