Upper 6th / Ulster Colleges Inspiration for GAA Event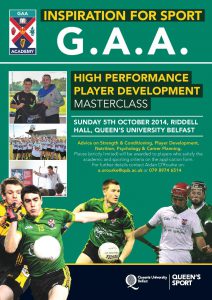 Queen's University have announced details of this year's one day Sean O'Neill Academy high performance workshop for school leavers, which will take place on Sunday 5th October at Riddel Hall. This event has been developed in conjunction with the Ulster Colleges and is aimed at the best Gaelic Footballers and hurlers, male & female, from all over Ireland who will compete at Schools and Colleges level during 2014/15.
This unique one day high performance event will bring the best talent from across Ireland together along with a host of top name players, coaches and guest speakers. This event will aim to develop the player's knowledge base in the areas of Nutrition, Strength & Conditioning, Mental Preparation, skill development as well as Life style Management. Workshops and coaching sessions will be carried out by some of Gaelic Football's leading lights.
This is a terrific opportunity for players, male & female across all disciplines of Gaelic Games, who are at a critical stage of their development, to benefit from some of the best expertise available in our own games and across other sporting Academies at Queen's. In addition, there will be a very strong input from the University Careers department to help guide students through the minefield that is the third level application process, the benefits of various expertises and employment opportunities that may influence career choice. We would encourage your players to apply for a place.
Numbers for this academy program are restricted and will be selected on the basis of an application. Places will be offered free of charge to successful applicants based on meeting a list of criteria which covers the student's academic and playing abilities. In addition to the coaching master classes, each successful applicant will receive an "Inspiration Pack" which will contain materials to assist with applying to Queens University and training kit.
For an application form or more information, email sportdevelopment@qub.ac.uk or telephone 02890387688.
Applications must be received no later than 12noon on Monday 29th September.