Queen's aim to defend O'Connor Cup title as Queen's GAA Festival draws to a close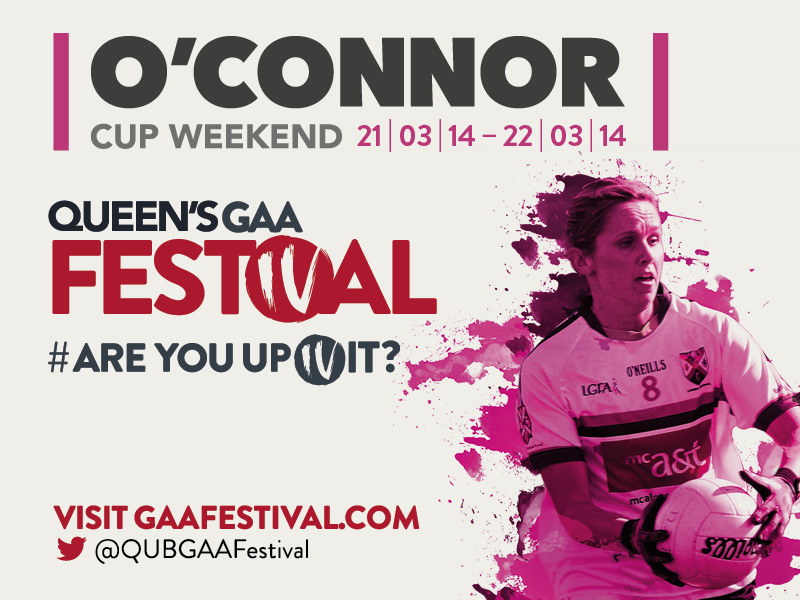 The O'Connor Cup brings the curtain down on the hugely successful Queen's GAA Festival this weekend.
Holders and hosts Queen's will be looking for some hometown glory as they take on a strong DCU outfit. In the other semi-final, University of Limerick face UCC in what is sure to be a closely contested Munster derby.
In the second tier Giles Cup, Mary I Limerick and IT Carlow will battle it out for a slot in the final against either NUI Maynooth or Athone IT. Meanwhile Dundalk IT or St Pat's Drumcondra will play Cork IT or Robert Gordon University in the Lynch Cup final.
The previous three weekends of Queen's GAA Festival have attracted impressive crowds to the Upper Malone venue and showcased some superb action in hurling, football and camogie.
Belfast Lord Mayor, Councillor Máirtín Ó Muilleoir, welcomed the visiting Ladies Gaelic footballers to Belfast. "It is great to welcome the ladies gaelic footballers from all the top College teams to our city," he said.  "We have witnessed some brilliant action during the Queen's GAA Festival and we are delighted to have showcased the best of sport over four memorable weekends here in Belfast."
On Friday morning school pupils from Victoria College, St Louise's and Malone College in Belfast will hear from leading female sports players including Caillin Duffy (Armagh GAA), Gemma Jackon & Claire McLaughlin Rugby (Ulster & Ireland) and Hannah McMillan, Hockey (Ulster & Ireland), at a Female Sports Participation Workshop supported by the Department of Culture, Arts and Leisure. Coaches and mentors from Queen's Rowing, the IRFU, IFA and Ulster Council will be on hand to discuss with players how they can reach their true potential.
In welcoming the football squads to Belfast, Sports Minister Carál Ní Chuilín said: "The O'Connor Cup Final brings the hugely successful Queen's GAA Festival to a close. With over 500 women footballers this is a fiercely contested competition and I wish everyone taking part the best of luck.
"For too long women have faced inequality and second class treatment in sport but I challenge anyone to dispute the elite level of footballing talent and skills on display this weekend. I am proud that Belfast has been the first city to host all four of the GAA Higher Education competitions including the Ashbourne Cup, the Sigerson Cup and the Fitzgibbon Cup."
Pat Quill, President of the Ladies Gaelic Football Association said: "I wish to congratulate and compliment Queens University Belfast on already hosting the Ashbourne, Fitzgibbon and Sigerson Cups this year, and now, the jewel in the crown, the O'Connor Cup. I welcome the great efforts made by everyone in reaching this stage of the competition. It is a great honour to represent your college at these All Ireland finals and I have no doubt everyone will have many happy memories of the weekend."
Looking forward to the weekend, John Devaney, Chair of the Organising Committee for Queen's GAA Festival, said: "Ladies Football has developed at Queen's since its foundation over twenty years ago, to becoming one of our most successful and most active clubs at the University.  From small beginnings, we now have the honour of defending the O'Connor Cup title we won for the first time this year. We do hope that the players, mentors and supporters enjoy their time in Belfast this weekend and may the best teams win."
Clare Scullion Chairman on the Queen's LGFA Club added: "There is a great buzz at Queen's University since we qualified for the O'Connor cup semi-finals this year. Countless hours of preparation have been invested to showcase our University and Belfast as a whole, and I am confident that the hard work has been evident in the Ashbourne, Sigerson and Fitzgibbon weekends. I believe the O'Connor Cup will be a great way to finish what has been a real spectacle of student sport and I hope many of visitors get the chance to come back to Belfast soon."
Further details on Queen's GAA Festival and fixtures on the Irish Daily Mail Sigerson Cup Weekend are available online at www.gaafestival.com
Queen's GAA Festival can be followed on Facebook and Twitter at @QUBGAAFestival