Asian Games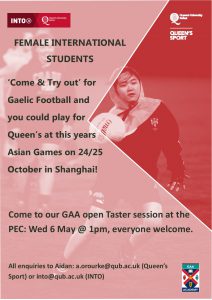 Do you want a real experience of Irish culture? Consider taking up Gaelic Football – Ireland's most popular sport – and represent Queen's!
Are you interested in joining a Queen's International Ladies Football Team to compete in the 2015 Asian Gaelic Games in Shanghai?
No experience of the playing the game is necessary (training will be available at Queen's).

You must be available for regular training sessions and be available to participate in the tournament in Shanghai in October 2015. This opportunity is currently only available to female international students registered / registering at Queen's…
Queen's are offering all female international students the opportunity to play Gaelic Football and represent the University at the 2015 Asian Games in Shanghai.
Beginning on Wednesday 6th May, from 1pm at the PEC, and every Wednesday there is an open invitation for all interested students to come along to hear more information about the project and learn the basic skills of the game as a starting point.
The sessions will be targeted at complete beginners who wish to learn the game from the very bottom level, progress over the summer and travel to Shanghai in October.
Ladies Gaelic football is the fastest growing sport in the country and has exploded internationally in recent years. It is a fast and exciting non contact sport.
Rules of Ladies Gaelic Football
The Asian Games is a wonderful competition that hosts competitions for teams of all levels annually to travel to from all over Asia to compete at. Queen's have been given a special opportunity to send a team of International students to compete.
For further information, contact Aidan O'Rourke at a.orourke@qub.ac.uk