Ladies' footballers face crunch quarter final
On Wednesday evening Queen's Ladies' footballers face a crunch quarter final at home to UCD which will determine whether they travel to the O'Connor Cup weekend to contest the shiled or the competition proper. Mark Doran's charges secured progress in last week's qualifier against Maynooth University.. The thrilling encounter was not for the faint-hearted as the first half opened with both teams exchanging scores one after the other. Maynooth rattled the back of the net first but QUB's Eimear McAnespie matched the score by slipping the ball past the Maynooth keeper. As the momentum built for both teams Maynooth scored another goal but QUB rallied and Fionnghuala Rocks banged in another goal after receiving a beautiful pass across the square from Sarah McCausland. The home team held the upper hand at the break with QUB trailing 2-04 to 2-07.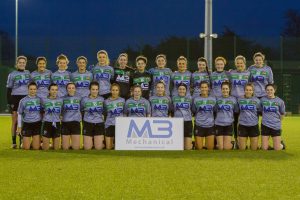 As in the first half there was very little between the teams in the second half. Maynooth were unable to match the tempo of QUB's play in the second half as they began to dominate at mid-field and chip away at Maynooth's half time lead. Laura McCann fired the ball into the back of the net from the corner of the square to secure QUB's third goal of the evening and this score would subsequently be the difference between the teams to ensure QUB's place at the O'Connor Cup weekend. Joanne Doonan got the final point of the night adding to her impressive tally of 8 points throughout the 60 minutes.
QUB: Julie Curran, Niamh McIntosh, Orlaith Maguire, Niamh Treanor, Eimear O'Rourke, Clodagh McCambridge, Mairead Kavanagh, Laura McCann, Aoibhinn McHugh, Eimear McAnespie, Joanne Doonan, Ella Durkan, Sarah McCausland, Fionnghuala Rocks, Niaimhin Cooper.
QUB subs: Danielle Hargan, Aimee Glasgow, Anna Kearney, Caoimhe Stewart, Ciara Cassidy, Ciara McQuillan, Clara Mulvenna, Cornelia Hawkes, Laoise Duffy, Leanne Fearon, Moya Feehan, Sarah Britton, Sinead O'Hare.
QUB scores: J Doonan 0-08, F Rocks 1-02, L McCann 1-00, E McAnespie 1-00, S McCausland 0-02.